The 2022 Subaru Love Promise Customer and Community Commitment Award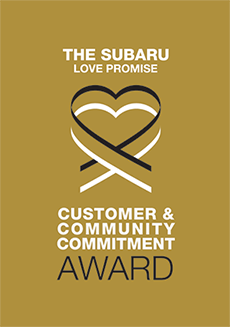 We've been nationally recognized for our dedication to our customers, our community, and the Subaru Love Promise.
We're honored to receive the 2022 Subaru Love Promise Customer and Community Commitment Award. This award nationally recognizes elite Subaru retailers who provide an exceptional customer experience at every interaction with Subaru. These retailers have also demonstrated an outstanding commitment to supporting passions and causes in their local communities in important areas such as the environment, community, health, education, and pets.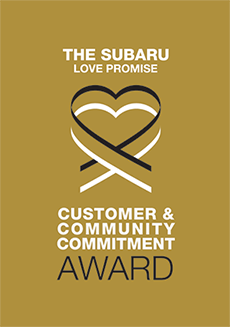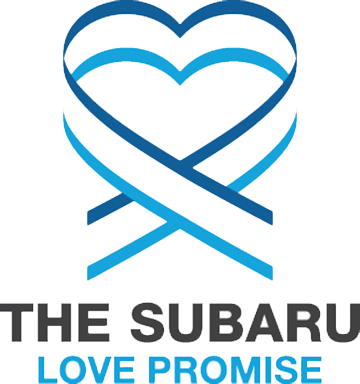 What is the Subaru Love Promise?
Subaru and our retailers believe in making the world a better place and the Subaru Love Promise is our vision of respecting all people. This is our commitment to show love and respect to our customers and to work to make a positive impact in the world.
How is Stateline Auto Ranch Subaru dedicated locally to the Love Promise?
Our Love Promise can be seen in various partnerships with local charities and non-profits. We're grateful for the opportunity, not only to be a part of our community, but to serve it as well.
Love Promise Stories from Stateline Auto Ranch Subaru
Subaru and Stateline Auto Ranch Subaru believe in making a positive impact on the communities in which we live and work. We uphold that belief through our Love Promise Community Commitment. Every month, we select inspiring stories from customers and partners from around our area who strive to support our collective commitment and feature them here
Subaru Loves Pets - Amanda G
2022 Subaru Loves Pets event has done it again with helping us find wonderful new homes for our dogs; not just at the event but word of mouth because of the event. The dogs always enjoy getting out to meet new people and smell new smells. The playpen for the dogs is always clean, the staff is always wanting to come play with the dogs. We are so grateful for this Subaru retailer to take us under their wings and help us find so many dogs new forever homes. Thank you Stateline Auto Ranch Subaru for once again going above and beyond for us and our pups!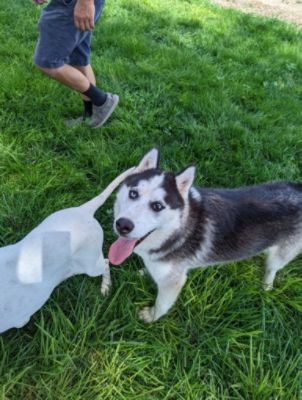 ---
Blanket Delivery - Helen D
It was a beautiful June day and the perfect day for the staff at Stateline Auto Ranch Subaru to delivery blankets, art kits and cards of hope to cancer patients at St. Alphonsus Cancer Care Unit. Most of us have experienced first hand the effects of cancer or experienced it with a loved one, whether it was a close relative or friend. One thing we have all learned is the importance of pre-screening and wellness checks. When you get that call your heart drops and your gut becomes heavy. You really don't know how to tell anyone you have just been diagnosed with cancer. You hear all the horror stories, the doom and gloom and you're never sure what someone will say to you. Subaru Loves To Care is a great ice breaker, it's a program that engages not only Subaru employees from all over, but it engages the community every time an employee tells a Subaru Love Story. It is such a privilege and honor to deliver, in person, blankets to people in our community actively going through chemotherapy. The blanks are more than a fuzzy, comfortable wrap, they are love and hope for so many people. The staff at Stateline Auto Ranch Subaru would like to thank all the care-givers who work tirelessly to help, encourage, love and take care of our family and friends. We salute all of you! Thank you for the job you have chosen to do!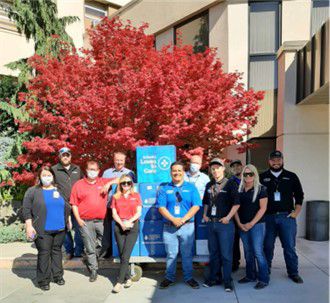 ---
Blanket Delivery - Kay G
Visiting the cancer center at St. Alphonsus Hospital in Ontario, Oregon is always a very emotional experience. Most people know what cancer is and have heard the horror stories. At Stateline Auto Ranch Subaru it is important to the employees that have experienced cancer first hand, or with an immediate family member or close friend, that all our co-workers understand the importance of Subaru Loves To Care. We encourage all employees to participate, to help deliver the blankets and art kits, to see the immediate impact it has on someone else's life. This type of giving is more than just a delivery, it's giving someone who is receiving chemotherapy treatment a break from a chill, a smile to warm their heart and most of all a card of hope. How do you explain cancer? Well, the definition of cancer is a disease in which some of the body's cells grow uncontrollably and spread to other parts of the body. For the doctors and nurses who care so deeply for these patients every day and night "Our Hat's Off To You!" I would ask everyone to say THANK YOU to your local cancer care teams, their jobs are some of the toughest!
---
Meals on Wheels - Helen D
Stateline Auto Ranch Subaru presented a check to to Malheur Council on Aging/Meals on Wheels for the Subaru Share the Love / Hometown Charity Event. This money will provide and deliver 1,000 meals to senior citizens in Malheur County. Meals on Wheels allows for important interaction between staff and clients and an essential companionship to those who need someone to check in on them!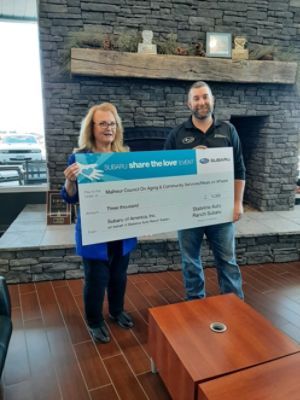 ---
Daycare Clean Up - Juan F
Stateline Auto Ranch Subaru believes in making the world a better place, that is why we came together in freezing temperatures as part of our Subaru Love Promise Community Commitment. February 19, 2022, below freezing temperatures, a new playground needed to get prepped. This is how our story went: In February we learned a local day care's lease was not going to be renewed and they had to be out by March 15th. This day care served almost 100 families in our small community and the impact of it not being open would hurt a lot of citizens. We met with the day care owners and help organize volunteer to assist them with their new facility, from the inside / out! Our Stateline Auto Ranch Subaru employees met at 8am on Saturday morning and started cleaning the back area which will become the playground. We cleared three trailer loads of debris out of the back, cut down multiple damaged trees and cut down hundreds of stocks of bamboo. When we were finished it was a huge transformation. We found a very nice deck buried in the back along with potential area for a nice sand box and hop scotch. The owners of the day care, were not only surprised that we showed up to help, but very surprised and grateful that so many of us participated and make quick work of an overwhelming disaster. Helping any community member is what we do best at Stateline Auto Ranch Subaru and we look forward to our next community project!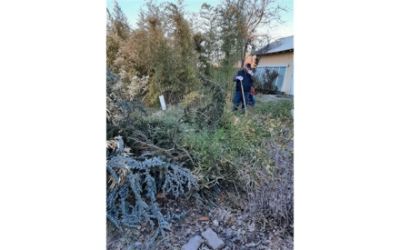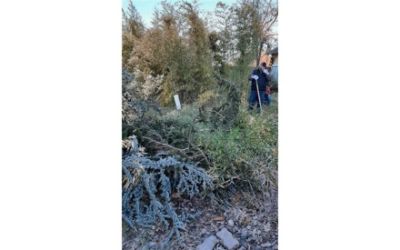 ---
Parade of Horses - Dillon M
The past two years have been very trying on so many people, including our elderly and shut-ins. They had very limited time in person with loved ones and friends, if they had any time at all. They were unable to attend any of the very limited community or social events that were held. I couldn't accept the thought that there are so many who could not enjoy life as we knew it, so I came up with an idea to bring a little cheer and happiness to a few of the elderly in our community. Knowing ahead of time the weather would be cold and snowy, I passionately moved forward with my plan. I called an assisted living facility to get permission to carry it out, which they thought was a GREAT idea! I rallied my family, friends & co-workers, and had them saddle up! Yes, saddle up. We provided a private horse parade for the residents of this facility. It was a complete hit. The emotion and cheer from the windows of these residents brought tears to our eyes, it was so emotional and satisfying to bring them joy. We were allowed to ride our horses right up to the windows and allowed the residents to pet and love on our animals. As part of the Stateline Auto Ranch Subaru team, I feel it is important for everyone to give a little time to bring love and happiness to one another. This was definitely one of the best community support events we could have done for a group of individuals who committed their lives to better our futures. Thank you, Subaru for "Subaru Loves", the focus you put on sharing the love in so many ways, and encouraging all of us to think outside our own timelines and give a little back.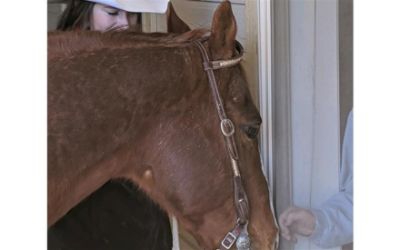 ---
Ontario Oregon Winter Shelter - Priscilla G
Community in Action was lucky enough to be given blankets from State Line Auto Ranch Subaru. Our agency serves Malheur and Harney County and operates programs designed to alleviate poverty. These blankets were used specifically for our homeless and unstably housed individuals and families in the area. We were able to provide blankets to each person entering our Winter homeless Shelter. There they receive shelter through the winter and provided with services to assist the individual or household find stable housing and resources. A lot of these families and individuals have limited possessions so being able to provide them with blankets, food, and basic needs really helps give them hope in moving forward. Unfortunately due to limited space we are not able to provide shelter to our full homeless community. Subaru was able to provide our agency with over one hundred blankets. We have been able to provide these to anyone identifying as literally homeless and in need. This very much helps with our agencies mission and gives some ambition to move forward. We would like to thank the Stateline Auto Ranch Subaru with supporting our efforts in serving our community.
---
Lights on Main Street - Ulises M
I've lived in the area my entire life, and started work at Stateline Auto Ranch Subaru two years ago. Fruitland has always felt like a small and united community. Throughout the year they hold several community events, one of my favorites is Lights on Main Street. It reinforces that feeling of small, united community that people here have come to love. Seeing the community come together to bring Christmas Cheer and Santa to Fruitland was such a nice feeling after a long year of uncertainties. It was good to know we could rely on St. Nick to bring us together to celebrate this wonderful time of year. Seeing the kids run around gathering stamps and collecting their prizes from different businesses was heart-warming. Hearing the cheers of the children as they rode in the fire trucks all night long with Santa, is proof as to why this community is better together. The joy, laughter, and feeling truly made it feel like Christmas came early this year. Giving back is what we do best and sometimes the biggest rewards are the smallest things we achieve. This year we had the pleasure of meeting the Grinch! He stopped by our Subaru booth and tried to steal our brand new BRZ. It was our Love for the season that made his heart grow three sizes and he settled for a picture with members from the Stateline Auto Ranch Subaru Team.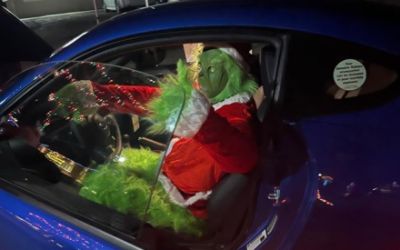 ---
Subaru Loves Pets- Ani-Care Animal Shelter, INC. - Amanda G
Once again, our favorite event has come and gone and we could not be happier about the outcome of the 2021 Subaru Loves Pets event. We had 13 dogs adopted with their new family telling us they heard about the event or had come to the event and had fallen in love with one of the dogs. That is amazing. Our dogs enjoy getting out to meet new people and see new sites. The playpen for the dogs is always clean, the staff LOVES to come play with the dogs and record videos of them to send to their friends and family. It is like having an event with 20 volunteers except they just work there! The goodie bags are always on point and help any new adopter transition our dogs into their homes much easier. We definetly couldn't of asked for a better Subaru Retailer to take us under their wings and help us find so many dogs new forever homes. Thank you Stateline Auto Ranch Subaru for once again going above and beyond for us and our pups!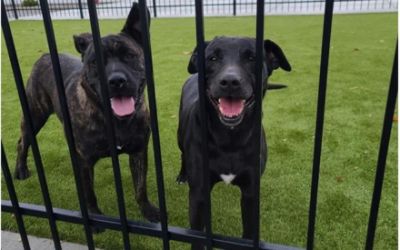 ---
FHS Art Class Loves Learning - Deanna G
Subaru Loves Learning and AdoptAClassroom Dear Subaru, My name is Deanna Grimes and I teach Art at Fruitland High School, in Fruitland, Idaho. I just wanted to write this letter to thank you for adopting one of my art classes. Stateline Auto Ranch Subaru has made this a wonderful experience. The Subaru Loves Learning Program with AdoptAClassroom was a very generous donation for my students. I teach just over 140 students, grades 9th-12th, in Art 1, Art 2, Illustration, Introduction to Design, and Direct Studies Advanced Art. Many of my students aren't able to purchase the needed art supplies for their art class and I operate on a very limited budget. Your donation has helped me to purchase quality art supplies for my students to succeed and advance in their artistic abilities. I was able to order 17 sets of Prismacolor colored pencils, pencil sharpeners, 100 lbs of air dry clay for sculpting and ceramics, high quality charcoal paper pads, drawing pads, illustration board, and bristol paper. These much needed supplies have been such a blessing to my program and students. Thank you so much for helping me to provide for my students and support their love for Art! I hope we can be a part of this great program again next year. Sincerely, Deanna Grimes Fruitland High School Art Teacher dgrimes@fruitlandschools.org(208) 452-4411
---