The 2023 Subaru Love Promise Community Commitment Award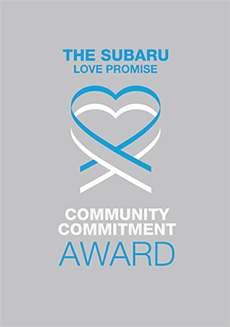 We've been nationally recognized for our dedication to our community and the Subaru Love Promise.
We're honored to receive the 2023 Subaru Love Promise Community Commitment Award. This award nationally recognizes Subaru retailers who are making the world a better place while demonstrating an outstanding commitment to supporting passions and causes in local communities. These efforts are focused in important areas such as the environment, community, health, education, and pets.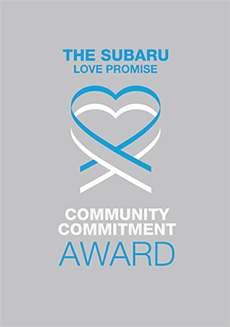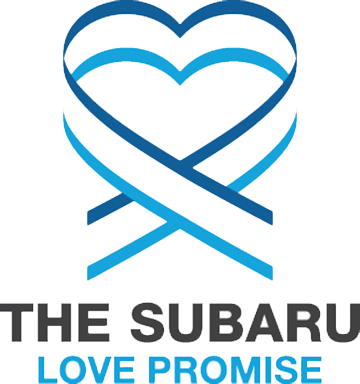 What is the Subaru Love Promise?
Subaru and our retailers believe in making the world a better place and the Subaru Love Promise is our vision of respecting all people. This is our commitment to show love and respect to our customers and to work to make a positive impact in the world.
How is Stateline Auto Ranch Subaru dedicated locally to the Love Promise?
Our Love Promise can be seen in various partnerships with local charities and non-profits. We're grateful for the opportunity, not only to be a part of our community, but to serve it as well.
Love Promise Stories from Stateline Auto Ranch Subaru
Subaru and Stateline Auto Ranch Subaru believe in making a positive impact on the communities in which we live and work. We uphold that belief through our Love Promise Community Commitment. Every month, we select inspiring stories from customers and partners from around our area who strive to support our collective commitment and feature them here
Homelessness - Helen D
The homeless numbers in our area are pushing 300 individuals. This includes, elderly, veterans and kids. For some, homelessness is a choice but for the majority it's unforeseen circumstances. In our area the homeless will set up camps along the Snake River, under bridges, in parks and some just sleep with their bags of stuff on the sidewalk. The socks we delivered were desperately needed, and will help bring warmth and comfort to someone in need. We have organizations that come together to provide necessities to those experiencing homelessness. Community in Action is our partner. Their staff works very hard to find solutions to many issues that surround the homeless population. It's very easy to get caught up in one's own life and forget that there is a homeless population. Before our staff delivered the boxes of socks to Community in Action, we took the time to talk about the homeless situation, that we are all a part of, after all, it is our community, it is our responsibility to help. Every employee has witnessed someone in need, we all have our personal experiences and stories about encounters we have had and how we helped. One story stood out, not to tell someone else's story, but, one of our employees talked about a situation he encountered. He was on his way home from work one night and stopped at a local restaurant to eat. As he left through the back door he noticed someone laying under a piece of tin near a small building covered by an old tarp. He walked over to check on the person and found a homeless man lying there. He asked the man if he was okay or if he needed help. The man replied, yes, I'm okay, just hungry. He told the man he would be back. Without even thinking about it he went back into the restaurant and order food and a soft drink to take out to the man. When he returned the man was still there under the tarp, he was very grateful for the hot meal and a drink. My co-worker did not brag about what he had done, nor did he tell us this story until others started talking about what they had done. It took a lot to drag the story out of him. He told us, "I don't do things for recognition, I do them because it's the right thing to do." I don't know about anyone reading this, but these are the types of co-workers I want to work with. I am very proud to be a part of giving and very proud to work at a Subaru Dealership with such fantastic people. I end with a quote from Sally Koch. "Great opportunities to help others seldom come, but small ones surround us every day."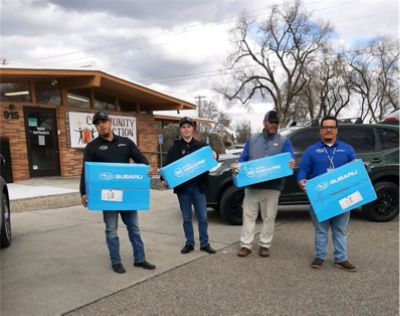 ---
Hitchcock Station / Random Act of Kindness - Helen D
Stateline Auto Ranch Subaru in Fruitland, Idaho was happy to participate in National Random Acts of Kindness Day. Our employees fought over who got to wear the blue "Subaru Loves To Help Socks," we made it a fun day. Those who completed a random act of kindness received a pair of socks and are pictured above. One of our many acts of kindness: We put a couple swag bags together as a welcome for a new business, to our sweet little town and a few of us headed off to greet and explore this new business. The building was built in 1924 and has been home to many different businesses over the years in Fruitland it's called the Hitchcock Building. It was originally a service station and now it's a historic landmark repurposed as a contemporary, yet classic, eatery. We went early hoping to deliver our bags to the employees before they got too busy, but it was packed by the time we got there. We did get our "Gifts & Congratulations" message to the new owner and his staff, and a round of applause from their other customers. We were very successful in bringing many smiles to a lot of people and enjoyed a great atmosphere and fantastic burgers, fries and milk shakes, in this very unique restaurant. If you are ever in Southwest Idaho, specifically Fruitland, this is a must try delight, it's called Hitchcock Station. The burgers, fries and milk shakes are a 10 out of 10!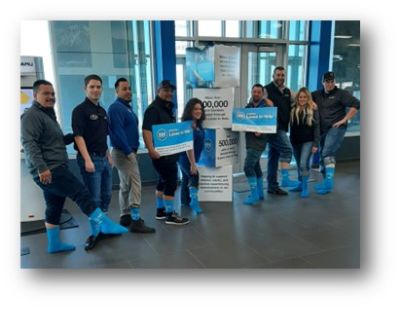 ---
Fruitland High School Loves Learning - Helen D
It was so much fun to deliver supplies to the classrooms we adopted at Fruitland High School. The teachers, students and administrators were all very grateful. As all the teachers gathered and shared the supplies, we delivered it was like kids in a candy shop, they could not believe all the boxes of stuff we delivered. Stateline Auto Ranch Subaru is fortunate to have a school district full of teachers who are true leaders, not only in their classrooms but in the community. We all work together to spread the word when a classroom has a need and find a win win solution. In the small center picture two of the items were made in Mrs. Grimes art class. She has some very creative students who made the camera and building from cardboard and packing paper. Her art class is filled with very talented students who just need some extra simple supplies. After visiting her classroom and seeing all the creative art, we starting looking around at what we had that could help. All our flat cardboard and packing paper that comes to the dealership is now saved and used in her classroom. Our employees also looked around their homes and found great items that were a hit. Such as: left-over tile from a remodel, extra hand sander, left-over paint, old window frames, and much more. When it's time to spring clean, we encourage everyone to look at what they are throwing out or donating and consider it's use at the school. We will continue to encourage our teachers, not just from our adopted classrooms, but every grade level to lean on us for ideas and help with projects that will inspire their students to be successful.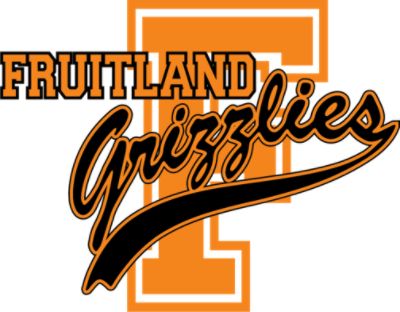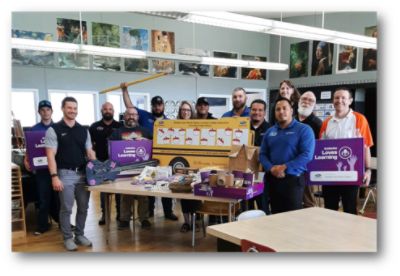 ---
Adopt A Senior Citizen In Assisted Living - Helen D
The kick-off to the holiday season began for Stateline Auto Ranch Subaru with a joint venture. November 17th, the kick-off of the Subaru Share The Love Event and Festival Of Trees! Both programs help Malheur County Meals On Wheels. This year while volunteering at Festival Of Trees, I had a great conversation with a lady named Cheryl. She shared some very enlightening information about senior citizens living in assisted living. Every year holidays come and go for these individuals, many without any visitors and any kind of holiday recognition. The Auto Ranch Group has always tried to do something for residents at an assisted living facility by visiting or sending something to bring a little joy to their life. This year we came together as a Subaru staff and decided to spread the word about a specific assisted living facility in one of our communities that had a giving tree set up at another local business. We encouraged our friends and family to get a name from the giving tree and buy Christmas presents for that resident. We supported Cheryl's mission to provide gifts for every resident in the facility. We were informed it was successful and every resident will get a gift. The employees at Stateline Auto Ranch adopted five of these well deserving senior citizens and began shopping for them. Each tag had three or four Christmas wish items on them. The things we take for granted every day are the things they asked for. Things like scented body soap, scented lotion, after shave, perfume, a new shirt or pair of pants, socks, towels and wash cloths, puzzle's, books and of course candy. Everyone went above and beyond on buying. After we fulfilled the wish lists and added a few extra things for each of our five guests' gift bags, we were able to donate to residents at another facility that have no family in the area. This was a three way win… First, volunteering at Festival Of Trees and having the opportunity to talk about the Subaru Share The Love Program. Secondly, finding a rewarding extra need in our community and fulfilling wishes of well deserving people. Thirdly, bringing our staff together, everyone participated from the wash bay-service/parts and sales. We spent a couple hours getting all the gifts organized and wrapped and signed cards. One thing Subaru has in common with the Christmas season is giving freely and giving with love. I am so proud to be an employee at such a great retailer, working with such giving people.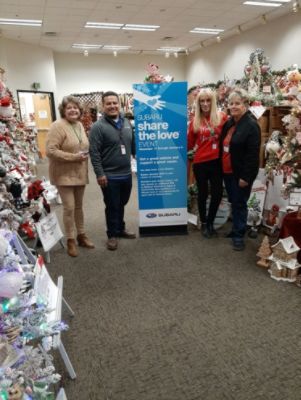 ---
Subaru Loves Pets - Amanda G
2022 Subaru Loves Pets event has done it again with helping us find wonderful new homes for our dogs; not just at the event but word of mouth because of the event. The dogs always enjoy getting out to meet new people and smell new smells. The playpen for the dogs is always clean, the staff is always wanting to come play with the dogs. We are so grateful for this Subaru retailer to take us under their wings and help us find so many dogs new forever homes. Thank you Stateline Auto Ranch Subaru for once again going above and beyond for us and our pups!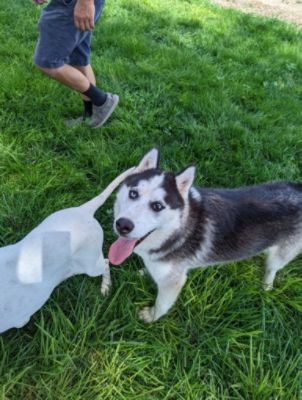 ---
Blanket Delivery - Helen D
It was a beautiful June day and the perfect day for the staff at Stateline Auto Ranch Subaru to delivery blankets, art kits and cards of hope to cancer patients at St. Alphonsus Cancer Care Unit. Most of us have experienced first hand the effects of cancer or experienced it with a loved one, whether it was a close relative or friend. One thing we have all learned is the importance of pre-screening and wellness checks. When you get that call your heart drops and your gut becomes heavy. You really don't know how to tell anyone you have just been diagnosed with cancer. You hear all the horror stories, the doom and gloom and you're never sure what someone will say to you. Subaru Loves To Care is a great ice breaker, it's a program that engages not only Subaru employees from all over, but it engages the community every time an employee tells a Subaru Love Story. It is such a privilege and honor to deliver, in person, blankets to people in our community actively going through chemotherapy. The blanks are more than a fuzzy, comfortable wrap, they are love and hope for so many people. The staff at Stateline Auto Ranch Subaru would like to thank all the care-givers who work tirelessly to help, encourage, love and take care of our family and friends. We salute all of you! Thank you for the job you have chosen to do!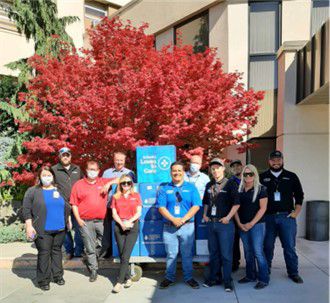 ---
Blanket Delivery - Kay G
Visiting the cancer center at St. Alphonsus Hospital in Ontario, Oregon is always a very emotional experience. Most people know what cancer is and have heard the horror stories. At Stateline Auto Ranch Subaru it is important to the employees that have experienced cancer first hand, or with an immediate family member or close friend, that all our co-workers understand the importance of Subaru Loves To Care. We encourage all employees to participate, to help deliver the blankets and art kits, to see the immediate impact it has on someone else's life. This type of giving is more than just a delivery, it's giving someone who is receiving chemotherapy treatment a break from a chill, a smile to warm their heart and most of all a card of hope. How do you explain cancer? Well, the definition of cancer is a disease in which some of the body's cells grow uncontrollably and spread to other parts of the body. For the doctors and nurses who care so deeply for these patients every day and night "Our Hat's Off To You!" I would ask everyone to say THANK YOU to your local cancer care teams, their jobs are some of the toughest!
---
Meals on Wheels - Helen D
Stateline Auto Ranch Subaru presented a check to to Malheur Council on Aging/Meals on Wheels for the Subaru Share the Love / Hometown Charity Event. This money will provide and deliver 1,000 meals to senior citizens in Malheur County. Meals on Wheels allows for important interaction between staff and clients and an essential companionship to those who need someone to check in on them!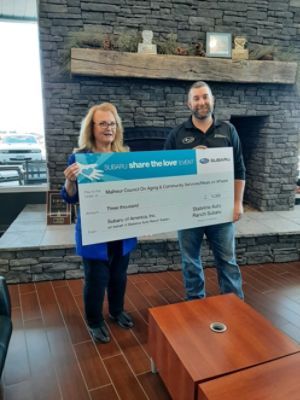 ---
Daycare Clean Up - Juan F
Stateline Auto Ranch Subaru believes in making the world a better place, that is why we came together in freezing temperatures as part of our Subaru Love Promise Community Commitment. February 19, 2022, below freezing temperatures, a new playground needed to get prepped. This is how our story went: In February we learned a local day care's lease was not going to be renewed and they had to be out by March 15th. This day care served almost 100 families in our small community and the impact of it not being open would hurt a lot of citizens. We met with the day care owners and help organize volunteer to assist them with their new facility, from the inside / out! Our Stateline Auto Ranch Subaru employees met at 8am on Saturday morning and started cleaning the back area which will become the playground. We cleared three trailer loads of debris out of the back, cut down multiple damaged trees and cut down hundreds of stocks of bamboo. When we were finished it was a huge transformation. We found a very nice deck buried in the back along with potential area for a nice sand box and hop scotch. The owners of the day care, were not only surprised that we showed up to help, but very surprised and grateful that so many of us participated and make quick work of an overwhelming disaster. Helping any community member is what we do best at Stateline Auto Ranch Subaru and we look forward to our next community project!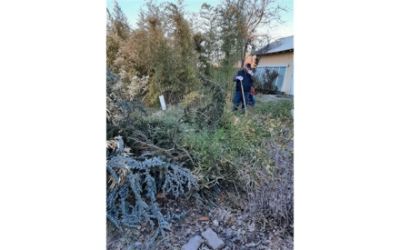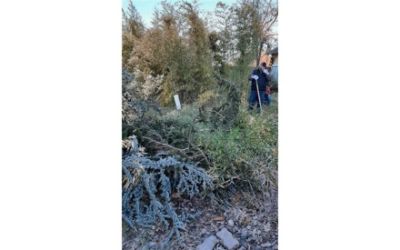 ---
Parade of Horses - Dillon M
The past two years have been very trying on so many people, including our elderly and shut-ins. They had very limited time in person with loved ones and friends, if they had any time at all. They were unable to attend any of the very limited community or social events that were held. I couldn't accept the thought that there are so many who could not enjoy life as we knew it, so I came up with an idea to bring a little cheer and happiness to a few of the elderly in our community. Knowing ahead of time the weather would be cold and snowy, I passionately moved forward with my plan. I called an assisted living facility to get permission to carry it out, which they thought was a GREAT idea! I rallied my family, friends & co-workers, and had them saddle up! Yes, saddle up. We provided a private horse parade for the residents of this facility. It was a complete hit. The emotion and cheer from the windows of these residents brought tears to our eyes, it was so emotional and satisfying to bring them joy. We were allowed to ride our horses right up to the windows and allowed the residents to pet and love on our animals. As part of the Stateline Auto Ranch Subaru team, I feel it is important for everyone to give a little time to bring love and happiness to one another. This was definitely one of the best community support events we could have done for a group of individuals who committed their lives to better our futures. Thank you, Subaru for "Subaru Loves", the focus you put on sharing the love in so many ways, and encouraging all of us to think outside our own timelines and give a little back.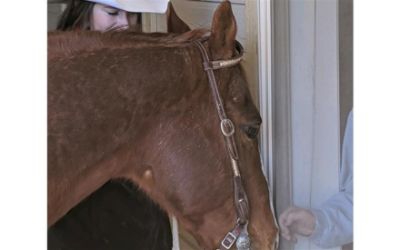 ---