The 2021 Subaru Love Promise Customer and Community Commitment Award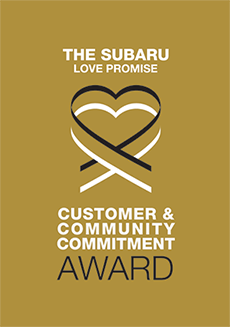 We've been nationally recognized for our dedication to our customers, our community, and the Subaru Love Promise.
We're honored to receive the 2021 Subaru Love Promise Customer and Community Commitment Award. This award nationally recognizes elite Subaru retailers who provide an exceptional customer experience at every interaction with Subaru. These retailers have also demonstrated an outstanding commitment to supporting passions and causes in their local communities in important areas such as the environment, community, health, education, and pets.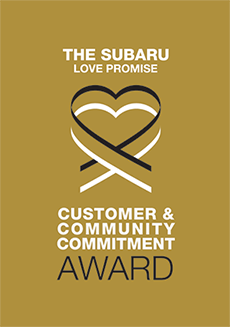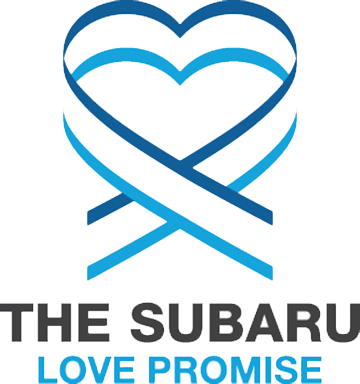 What is the Subaru Love Promise?
Subaru and our retailers believe in making the world a better place and the Subaru Love Promise is our vision of respecting all people. This is our commitment to show love and respect to our customers and to work to make a positive impact in the world.
How is Stateline Auto Ranch Subaru dedicated locally to the Love Promise?
Our Love Promise can be seen in various partnerships with local charities and non-profits. We're grateful for the opportunity, not only to be a part of our community, but to serve it as well.
Love Promise Stories from Stateline Auto Ranch Subaru
Subaru and Stateline Auto Ranch Subaru believe in making a positive impact on the communities in which we live and work. We uphold that belief through our Love Promise Community Commitment. Every month, we select inspiring stories from customers and partners from around our area who strive to support our collective commitment and feature them here
National Night Out - Helen D
National Night Out August 3, 2021 ~ Mesa Park, Fruitland, Idaho. Nationally, this event brings our local police departments, sheriff departments and other ems into their communities to help build relations and erode common misconceptions associated with law enforcement. This year our small community was faced with a very difficult situation, as our law enforcement agencies were very busy searching for a 5-year old boy who is missing from our community. When we were asked to help make this event a success, at the very last minute our "Love Promise" team stepped up. We were there to help set up the night before and the next evening we were there to help where needed. For fourteen years I was certified with SafeKids. As part of SafeKids, I helped educate kids and adults with different child safety activities. Keeping kids safe in and around vehicles including is a big focus including bicycle safety and fitting kids to bicycle helmets. This event was a great opportunity to help our community in many ways and to reconnect with community members. Stateline Auto Ranch Subaru is always willing and prepared to step up and provide volunteer where needed.
---
Memorial Weekend 2021 - Kathleen G
In 2018 we met this super sweet elderly lady named Kathleen, who came into Ontario Auto Ranch Subaru to buy a brand new car. She had no idea what she wanted but stated she wanted to drive them all. Three Saturdays in a row we took her out so she could make her decision. She finally decided on a new Subaru Crosstrek. Everyone got to know her and talked to her over weeks and many visits. She shared the story of the last wishes of her late husband, and love of her life. He had survived the war, serving in the Air Force and had survived his first round with cancer. One of his last wishes before he passed away was that she would buy a brand new car so he would always know she was safe. She continues to use (now) Stateline Auto Ranch Subaru for all her service, any questions about her car or stops to just say hi. In March of 2021 she had stopped in for a tire light that had come on. The service department got her taken care of and even washed and vacuumed her Crosstrek. While she waited she talked about how the last year had been so tough and she no longer felt safe to drive very far and certainly could not drive at highway speeds. A few tears dropped as she explained how she felt the need to visit the cemetery where her late husband was buried, because she had not been able to get there the last 2-years. Our Subaru Love Promise Team put our heads together and decided that one of us would spend the Saturday before Memorial Day 2021 with her. We put a quick plan in place, but it took some convincing for her to accept our offer. We had packed water, snacks and a sturdy chair so she could sit and spend as much time as she needed there. That Saturday morning we picked her up at her home, took her to the local nursery, so she could buy flowers to decorate his site and drove her 40 miles to the cemetery. This was one of the greatest things we, as team could have done. She was overwhelmed with the generosity and the love we shared with her. She offered to pay for gas, food and our time, we just smiled and said no thank you, this is for you, we have it all covered. She was so grateful that she had such kind and caring people in her life and that she was able to purchase her Subaru Crosstrek, and fulfill her late husband's last wishes. We plan to do this again next year and bring a little love and hope to someone who is in need.
---
Ani-Care Animal Shelter Dog Adoption - Amanda G
I want to start off by thanking you for yet again, another amazing event! We have never had so many long term dogs find their forever homes. Because of your commitment to the Subaru Loves Pets event, we were able to adopt out 35 dogs, some of which we had had for almost 2 years! This has been the craziest year we have ever had and are so thankful we were able to participate again in this year's event. Stateline Auto Ranch Subaru has the most amazing dog set up not only for people to bring their dogs while shopping but to hold events like this. We were able to free run dogs inside the play area and allow people to come in and play fetch or give snuggles to the dogs. Since covid, we have not had any volunteers at the shelter which leaves just me to give attention to the dogs. It was wonderful to see them able to play with other people and especially kids. I cannot thank Subaru and Stateline Auto Ranch Subaru enough for putting on this event and making it such a big deal. We also had a local news agency, Living in the news.com come out and were able to adopt out even more dogs after the live broadcast. People from all over were showing up and getting a hold of us to come out. Subaru's generous donation for every dog adopted will help us keep up with the piles of vet bills we have every month to ensure all dogs are fixed, microchipped, and current on immunizations. Not to mention the injured dogs that come in. You all have given me more hope than ever as we head into this frigid winter with covid restrictions. Again, I cannot thank you enough for this wonderful event that we look forward to every year. This was the most successful year we have ever had and we hope next year will be even better.
---
Holly Get's A Forever Home - Ani-Care A
Holly had been at Ani-Care Animal Shelter for nearly a year. She didn't have any injuries and wasn't a vicious dog, she just wanted a home and nobody seemed to want her. She had been to the vet and everything checked out perfect for her but still no interest. People would come into the shelter and leave with a dog but not with Holly. She is a very loving dog and really loves people but being an older dog it was hard to find her a home. Stateline Auto Ranch Subaru starting showcasing Holly the first part of October and inviting people to share the posts and help find her a forever home! During the National Make A Dogs Day, October 22nd, Holly got to meet a lot of people. Wearing her Subaru bandana very proudly. She pranced around and offered up lots of smiles and licks. Well, Holly finally got her forever home! She met her new human owner at Stateline Auto Ranch Subaru that Thursday. Carol had seen the posts and came in to meet her, it was love at first sight! Holly perked up and started barking as soon as Carol was walking toward the dog park. When Carol told us she was there to meet Holly we all crossed our fingers. It was a perfect match. We let Carol take Holly to a separate area to bond and it only took minutes for the two of them to fall in love. We are so happy that Holly is now settling into her new home, she is definitely the boss!
---
Malheur County Meals On Wheels - Sandra S
Malheur Council on Aging would like to express its gratitude to Stateline Auto Ranch Subaru for their generous donation of $5090.63 to our Meals on Wheels Program. This donation will purchase 1,853 meals and will serve our seniors for three weeks. Last week our program delivered 622 meals to our home bound Malheur County seniors. Although, their donation is extremely important, we know that it is only one of the many ways that Subaru has gone the extra mile to help communities. Without donations like theirs we would not be able to continue our essential services to seniors in Malheur County. This service is a lifeline for many of our community who want to remain in their homes as long as possible. This is a story of one of the many Meals on Wheels customers, her name is Bertie. She has been living alone for the last five years since her husband Hal, a Korean War Vet passed away. She is 85 years young as she would say with a smile. Before her Rheumatoid Arthritis became severe she came to the local senior center for lunches twice a week, enjoying the meals and recreation there with her friends. Sadly, she isn't mobile enough now to drive or really leave her home. She has three grown children who live at least a day's drive from her. Her support system is comprised of two small rescue dogs, Snickerdoodle (Snicker) and Charlie. At the beginning of each delivery, Bertie's volunteer is greeted with a chorus of delighted yips and barks. Bertie and her volunteer have become friends during the time she has been on the program. Every delivery day, Bertie began to wait with anticipation for her meals and most of all the volunteer. They would discuss everything from world affairs to favorite recipes. One day, Bertie came to the door carrying a cupcake with a single lit candle. She said this was a small birthday token for her friend the volunteer who helped her get through each and every day since they had met.As heartwarming as these interactions are for us and our clients, they also give us a peek into the lives of those we serve and allow us to provide not just a meal, but a bit of human companionship and a watchful eye toward their health and well being. By their continued support to our community the wonderful people at Stateline Auto Ranch Subaru allow us to be part of their mission and in this way truly keep the Love Promise. Thank you Subaru for your generosity, community support and compassion for our seniors.Thank you, Sandra Shelton Malheur Council on Aging and Community Services 842 SE 1st AveOntario, Or. 97914
---
Subaru Loves To Care - Helen D
Employees of Ontario Auto Ranch Subaru delivered Messages of Hope , Warm Blankets, Totes and Children Craft Sets to Saint Alphonsus Medical Center for local Cancer Patients. As part of Subaru Loves to Care it is a pleasure for the Ontario Auto Ranch Subaru Employees to give so much back. "Subaru Loves to Care is all about improving the health of our local communities and we are proud to once again work alongside our valued partner, The Leukemia & Lymphoma Society, to continue supporting patients and their families battling cancer," said Alan Bethke, senior vice president of marketing at Subaru of America. "We hope that through this program, our gestures of hope will comfort and warm those who need it most."
---
Stamp Out Hunger - Helen D
Ontario Auto Ranch Subaru participated in Subaru's Share the Love Hometown Charity program that ran November 2018 through January 2, 2019. In the 11 years of this "Share The Love" Event for Subaru of American, Inc. along with its retailers, we will have donated over $140 million dollars to participating charities. During the Share the Love event for every new vehicle purchased or leased, Subaru donates $250 to the purchaser's choice of participating charities and Ontario Auto Ranch Subaru donated money as well. Today Ontario Auto Ranch Subaru presented a check to the Oregon Food Bank - Southeast Services in the amount of $6,405, which will provide thousands of meals for Malheur & Harney Counties. The Oregon Food Bank – Southeast Oregon Services supplies food to 34 partner agencies in Malheur and Harney Counties. The Oregon Food Bank knows that hunger starves the human spirit and that your donation will help 1 in 8 of our neighbors across Oregon, who struggle to put enough food on the table. Oregon Food Bank is effective and efficient – 93% of donations go directly to hunger-relief activities. If you would like to volunteer your time or donate money, contact Sheila Hiatt @ shiatt@oregonfoodbank.org!
---
Keeping Kids Safe In Vehicles - Helen D
The 2nd Thursday of every month volunteers, along with Ontario Auto Ranch Subaru, get together at Ontario Fire Department to check children for proper fit and installation in car seats. We are available from 4pm to 6pm, checking car seats, helping and educating families from all over the Treasure Valley on proper child safety seat practices. Car seats are all different for different stages of a child's growth. From the infant to the toddler, every seat needs to be checked for proper installation, compatibility with the vehicle, and most importantly compatibility to the child. Not all 3-month old babies can use the same car seat, but all kids need to be buckled up properly! Misuse or incorrect installation can lead to child injury or death in a crash, even if the vehicle is at a low rate of speed. Education is a big part of what we do - talking to care givers about all the simple things they can do to keep children/passengers safe in a vehicle. Although the child safety seat check is free, we do have car seats available for purchase.It takes the volunteers and certified technicians, along with community partners willing to supply us volunteers to make this happen. Thank you to some of our partners - Ontario Police Department, Ontario Auto Ranch Subaru, Ontario Fire Department, and Grow EO/Building Healthy Families!
---
Subaru Loves Learning - Steve B
By Jessi Butterfield This August through the Subaru Loves Learning initiative, the Ontario Auto Ranch Subaru wanted to fuel the next generation of innovators by making science accessible."This year Ontario Auto Ranch noticed Annex Charter School. Todd McCurry loves to spread the generosity of Auto Ranch throughout the community; to the small schools, like Annex Charter School, that often times don't have the opportunities or necessities they need as a bigger school would. Going from lower income and smaller budgets to old worn-out books and outdated equipment. Ontario Auto Ranch felt honored to share the love with an outer area of their community at Annex Charter School. Matt Lunstrum, sales manager, at Ontario Auto Ranch stated, "Subaru gives back and we want to give back with them." With 200 books given to Annex Charter, Principal Steve Bishop shared that this is the first encounter with Ontario Auto Ranch and they are more than grateful to the Auto Ranch team and Subaru. Some of us forget that things like this are a very big help to a little place like Annex. Principal Bishop expressed that the books given to them are all non-fictional, and all though fiction is fun for the imagination, these books will help the kids grow and learn in mathematics and science.
---
Five-Generations Share The Love - Kandice D
Pictured above: Ava-2, Kandice-31, Toni-55, Dianne-73, Jo-93In May 2018 our family was invited to participate in a five-generation photo opportunity at Ontario Auto Ranch Subaru. My first thought was, "How will I ever have time to make four schedules work?" I then decided to just do it and not stress over it. I hadn't had a generation photo with my daughter, only my son … so this would be perfect. In fact, it ended up being a treasured memory and photo my family now holds close. My Great-Grandma Jo is the first generation and I am the fourth (pictured above). With 93 years from generation one to five, you can imagine the love and positive feedback we received on social media. Grandma was most thrilled she got to model beside a new Subaru. You should have seen her face light up when she got to sit inside it. Priceless. Shockingly, my grandma's health took a turn for the worse in September and just over a week later we lost her. We are all very blessed to have had these taken. The pictures had given her great joy – her entire living room was filled with photos of kids, grandkids, great-grandkids, and great-great grandkids. That was her greatest accomplishment and she was proud of all of us. Not only did Ontario Auto Ranch Subaru take the pictures, but they made a special printed photo album for Grandma Jo, which she shared with everyone. Thank you, Ontario Auto Ranch Subaru for "sharing the love."Kandice Dickinson
---